Speedbuggy – Heathen Apostles
Saturday -
March
22,
2014
8pm
Buy Tickets
SpeedbuggyUSA w/ special guest Heathen Apostles
SpeedbuggyUSA
Speedbuggy arrived at their unique sound through the prism of experience, history and a love for some of the greatest music from country's past. with inspiration from the hard twanging Bakersfield sound of Buck Owens and his Buckeroos, followed by Merle Haggard. A style of country music loud and proud enough  to cut through the noise of roadhouses packed with blue-collar crowds out for a good time after a week of slaving in oil fields and farms. "It was working man's music, and that's exactly the kind of songs we write," says Speedbuggy's lyricist and frontman, Timbo
Heathen Apostles
Crossing paths at a mutual friend's, punk rock veteran Chopper Franklin (The Cramps, Nick Curran & the Lowlifes, Mau Maus) and femme fatale bellower Mather Louth (Radio Noir, Danny B Harvey), quickly uncovered a mutual appreciation for murder balladry, Americana, and memento mori. It was not long before a collaboration that sought to marry these interests in a sonic landscape, THE HEATHEN APOSTLES, surfaced. The landscape was further tilled with the addition of Thomas Lorioux (The Kings of Nuthin') on bass, Stevyn Grey (Christian Death, 45 Grave) on drums, Viktor Phoenix on banjo & mandolin and Luis Mascaro on Violin. Their debut album Boot Hill Hymnal is out now on Ratchet Blade Records.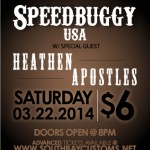 share: