Kevin Seconds
Saturday -
March
15,
2014
8pm
Buy Tickets
Kevin Seconds, Steve Soto, Russ Rankin & Elvis Cortez
Sometimes, the best folksingers don't come from the backwoods, shanty towns or a coastal city in the UK, but reside rite next door and are sometimes even in places you'd never expect to find them. KEVIN SECONDS is one of the latter. With his newest album OFF STOCKTON, an 11-track collection of heartfelt songs (Rise Records; February 18, 2014), this singer/songwriter splits his time crafting gorgeous rootsy folk songs with fronting legendary American hardcore punk band 7 Seconds.  Stripped down, bare and raw, these songs have little semblance to anything from his alter ego's domain.  Off Stockton is the sound of a man and his acoustic guitar, with the occasional subtle accompaniment of assorted friends, and a whole lot of stories to tell.
This All-Star line up includes acoustic sets by Kevin Seconds (7 Seconds), Steve Soto (The Adolescents), Russ Rankin (Good Riddance) and Elvis Cortez (Left Alone) and is this line-ups only appearance in LA so it is a must see.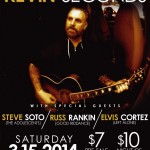 share: