South Bay Christmas Bash and Coffee Drive
Friday -
December
19,
2014
Doors @ 8pm
Buy Advance Tickets
Live Music by The South Hollows & Los Brigands
Come party for a good cause! The South Bay Customs Holiday Bash and Coffee Drive is Fri Dec 19th. Live music by The South Hollows and Los Brigands. Ole Smoky Moonshine Distillery will be on hand offering tastings of their latest and greatest AND MOST IMPORTANTLY we will be collecting Lbs of ground coffee to send to our troops serving overseas.
*Good coffee is a simple luxury most of us take for granted but is a highly sought after commodity by the brave men and women who risk their lives in order to make ours better. So show your support and gratitude by donating a pound of ground coffee and in exchange, get a night of great fun!
PURCHASE ADVANCE TICKETS BELOW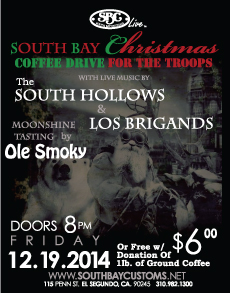 Number of Tickets - price includes $2 service fee
share: