Great write up in "Beach Magazine" about where SBC came from and where we're headed.
Motors + Art + Music: How South Bay Customs became the coolest place in the coolest town in the South Bay

by Mark McDermott
Every night during the dog days of the summer of 2007, site a gunmetal grey 1950 Chevrolet pickup truck roamed slowly through the streets of Smoky Hollow. A long, medications tall, razor thin dark-haired man sat behind the wheel, surveying the buildings in El Segundo's rundown warehouse district.
Michael Schreiber was looking for a home. He sought a place where he could not only build motorcycles, but assemble something else, something he'd never seen before except in his mind's eye —  a pirate's ship of a building, a skull and bones kingdom where he could make his own rules. He was prepared to make a stand.
Schreiber had reached a make it or break it point in his life. He was 36 years old and been building cars and bikes since before he was old enough to drive. He'd spent 10 years working as a mechanic for Harley Davidson shops but had constantly run afoul of his bosses. It wasn't an issue of work ethic, or ability. Schreiber was a hard worker and a meticulous craftsman. In fact it was his commitment to his meticulousness that was the problem.
"I was always having difficulties working with other people, because I thought I knew a better way," Schreiber said. "But not out of arrogance. I would see something I saw as an efficiency, and I wanted to make it better….I would go outside the lines of convention. I was told, 'Just show up and do what you are told —  it doesn't matter if it's right, wrong, or indifferent, just one and done, let's do it.' And I couldn't. So I ended up in a lot of trouble."
Being a mechanic was more than a vocation for Schreiber, but an almost spiritual endeavor. He was the son of a mechanic who'd grown up bouncing back and forth between Redondo and Lomita, and from the age of six would find machines and appliances in other people's trash and start taking them apart and putting them back together.
"I just look at something, and all I can do in my head, it's like extra vision —  I look into it and start thinking about how it works and take it apart, piece by piece," he said.
He quit his job with Harley Davidson before he could be fired, again. He knew he had to strike out on his own. His passion was to build motorcycles from the ground up, his own way, less overtly stylized than typical custom bikes.
Schreiber had a partner in crime. His girlfriend Robbin Holden was an artist and a classic car enthusiast. Together they felt the stirrings of a different kind of vision for how they could build a life. He sold his beloved '69 Chevelle, which he'd completely restored and owned for 15 years, and Holden sold her '62 Falcon. They took the money, paid off some debt, bought some equipment and moved into a little 250 sq. ft. section of a warehouse in South Redondo Beach. Thus was South Bay Customs born. The space, which was part of a strip mall, wasn't big enough. Ten months later, a larger space opened at a friend's warehouse in El Segundo, and they moved. This only lasted a year —  the building sold, and they had 30 days to move. They found a temporary location on Franklin Street in El Segundo, but time was running out for South Bay Customs.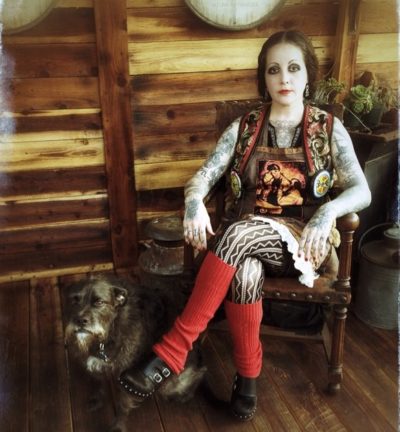 Robbin Holden, and Hank, of South Bay Customs.
Hence Schreiber's nightly hunts. "I would just drive around every night, so miserable," he recalled. "I knew I had to get out of it."
One night that September, he finally spied a "For Lease" sign outside a low slung warehouse on Penn Street. He called from his truck, made an appointment to see the place the next morning, and signed a lease three days later.
He knew he had his work cut out for him. "The first time he walked in, the word that came to mind was "dump."  The 3,000 sq. ft. warehouse had been occupied by an auto mechanic for several years, and then for the previous year it had been a bread bakery.
"So it was a combination of the guy who didn't clean up very well, the auto mechanic, and then the baker…he made a mess. You know, a little flour slurry everywhere. It was disgusting. I couldn't sleep the night after seeing it. I knew."
But he also saw something else. The scale and feel of the warehouse was expansive enough to contain more than a custom motorcycle shop. He'd found his pirate ship.
"I started seeing what it is now, just instantly," Schreiber said. "It all came."
What South Bay Customs is now defies easy description. It's a motorcycle shop, art gallery, music venue, and event space, but it's also something more. SBC is an alternative universe, the distillation and perhaps evolution of some of the South Bay's and particularly El Segundo's proudest traditions —  precision mechanics and a defiant but pronouncedly unbothered inclination to go one's own damned way. Rock 'n' roll not as a musical genre but a way of life.
Schreiber, to whom the idea art was anathema prior to meeting Holden 10 years ago, has been described in the custom motorcycle press both as a master of his craft and an artist. His reason for founding South Bay Customs sounds a lot like what many artists say about their calling to create art.
"I couldn't not," he said.
Writer Jack Kerouac famously wrote, "The only people for me are the mad ones, the ones who are mad to live, mad to talk, mad to be saved, desirous of everything at the same time, the ones who never yawn or say a commonplace thing, but burn, burn, burn…"
Schreiber is more of a slow burn. And South Bay Customs is his flame.
"For some people, it's going to to burn a way out of them if they don't let it out. Michael is that guy," said his friend Tony Goodreau, an El Segundo native and a musical mainstay at South Bay Customs. "If he didn't do this he would wind up in a padded cell. And that's an artist to me. You watch true artists, like a great guitar player, and you think, 'Man, if he wasn't doing this, he'd catch fire.' It's like an exorcism. Michael does that with everything, whether he's working, shaping metal, or putting on a show, putting together flyers….He's intense that way. It's definitely art to me, man."
It began at Pat's Cocktails II. Schreiber was having a drink with friends at the quintessential South Redondo dive bar. Holden was likewise there with friends. She noticed a tall man at the bar.
"I first thought he was cute, then I was like, 'I don't know,'" she recalled. "He kind of just didn't seem interested…He was single, so he was probably scanning the floor."
Schreiber is, if not taciturn, self-contained. He's deliberate in most things, including whom he lets in his life. He was more interested in Holden than he let on. Within a couple weeks, they went out on a date.
"So we met at another bar, and had the world's worst, most awkward first date ever," Schreiber said. "I really couldn't wait for it to be over. We are not clicking, it was uncomfortable, and we ended up going our seperate ways that night. I was like, 'Well, that is that, right?'"
He didn't hear from her until about a week later, on his birthday, when she called and left a message wishing him a happy birthday. The cool simplicity of it got his attention. He told his sister about the call. She told him he should give Holden another shot.
"Who knows?" Schreiber thought.
So he asked her out again.
"That date went way better than the first one," Schreiber said. "And now it's been 10 years."
A photographer who shot Robbin Holden once described her as "the calmest person I ever met." She's a self-taught artist with a bent towards assemblage, steampunk and darkly Victorian art who knows every good swap meet and antique store in a 100 mile radius and pores over art and design magazines for ideas or art she can clip out.
She knew she had her work cut out for her when she met Michael.
"He and I are so opposite," Holden said. "He hates art. I mean, he likes it now, but he hated it then. He thought we were a bunch of stuck up assholes who sit on our pedestals and judge people. All he wants to do is work on bikes and listen to rock 'n' roll, that was his thing. So it's been ongoing, but spending time and realizing that low-brow artists are not the same …it's just a different type of person. I don't have a degree and I'm not pretentious."
"I have to give Robbin credit for her influence. I was super naive to what art really even meant or could be before I met her," Schreiber said. "I kind of had this opinion that everyone who is into art is an arty kind of person. I thought they were sort of like snobs and they walked around with their pinkies in the air. It really quickly dawned on me when I met Robbin and saw the art that she does, and the art she appreciates, the way she decorates things — I was completely wrong. She really opened up my eyes to what art is and can be, and even sort of taught me that I had a little bit of artist in me, even though I'd never recognized it, or even wanted to admit that what I was doing was artistic."
Holden's idea of art wasn't overwrought. She'd grown up poor in San Pedro and came to art more from necessity than some need to make a conceptual statement.
"I hung out with poor kids," she said.  "So my view was just like, 'Okay, this is what I do, how I express myself. I can't go to the mall and buy a shirt, so I'll just paint my own.'"
Something Holden and Schreiber had in common from the beginning was a work ethic somewhere between relentless and outright insane. When Schreiber is on task, for example, sleep becomes inessential. He possesses an outsized capacity for single-minded focus.
When the couple took over the warehouse and began its transformation into South Bay Customs, they dug deep. They scrubbed and scraped and painted and fabricated and assembled. Holden went into overdrive, scouring swap meets and antique stores, paging through her vast collection of art books and magazines, clipping and framing and hanging art.
"For like a month, the doors were closed," Schreiber said. "We decorated it, and started building it out. It resembled very much what it is now."